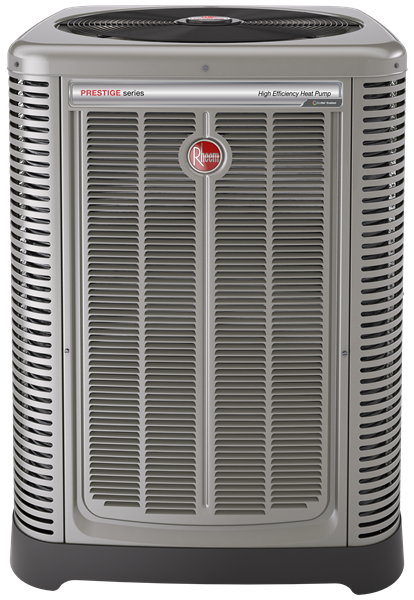 Air conditioners may look similar, but their Seasonal Energy Efficiency Rating (SEER) can vary widely. Higher SEER numbers save more money spent on electricity. Except for the northern states that still have a minimum standard of 13 SEER, The rest of the country has a minimum standard of 14 SEER for Air Conditioners, which uses 29% less energy than a 10 SEER unit (EPA standard up until Jan. 2006). We currently offer a line of air conditioners that start at the minimum efficiency available and go all the way up to a 21 SEER. Depending on your average usage, higher SEER air conditioners can significantly reduce your electric bill.
Additionally, we offer many air conditioners that have advanced features, such as 2-stage compressors and variable speed fan operation. These features not only improve the comfort level of your home, but can provide additional energy savings as well.
AIR CONDITIONING PRODUCT OFFERING - Rheem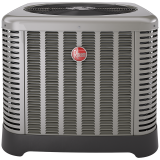 Classic Series: Single Stage
View Brochure
Model Family: RA16
Efficiency SEER: Up to 16 SEER
Efficiency SEER2:
Efficiency EER: 13 EER
Efficiency EER2:
Energy Star Rated: ENERGY STAR® Qualified
Sound Level: Quiet operation
Refrigerant Type: R-410A
Compressor: Scroll compressor
Factory Warranty Parts: Conditional Parts - 10 Years (Registration Required)
Factory Warranty Compressor: Conditional Parts - 10 Years (Registration Required)
Manufacturer's Stated Benefits:
New composite base pan - dampens sound, captures louver panels, eliminates corrosion and reduces number of fasteners needed
Powder coat paint system - for a long lasting professional finish
Modern cabinet aesthetics - increased curb appeal with visually appealing design
Curved louver panels - provide ultimate coil protection, enhance cabinet strength, and increased cabinet rigidity
Optimized fan orifice - optimizes airflow and reduces unit sound
Rust resistant screws - confirmed through 1500-hour salt spray testing
Diagnostic service window with two-fastener opening - provides access to the high and low pressure.
External gauge port access - allows easy connection of
Single-row condenser coil - makes unit lighter and allows thorough coil cleaning to maintain
35% fewer cabinet fasteners and fastener-free base - allow for faster access to internal components and hassle-free panel remo
Service trays - hold fasteners or caps during service calls
QR code - provides technical information on demand for faster service calls
Fan motor harness with extra long wires allows unit top to be removed without disconnecting fan wire.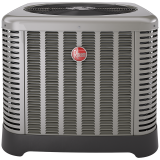 Classic Series: Single Stage
View Brochure
Model Family: RA14
Efficiency SEER: 15 SEER
Efficiency SEER2:
Efficiency EER: 12.5 EER
Efficiency EER2:
Energy Star Rated: ENERGY STAR® Qualified
Sound Level: Quiet operation
Refrigerant Type: R-410A
Compressor: Scroll compressor
Factory Warranty Parts: Conditional Parts - 10 Years (Registration Required)
Factory Warranty Compressor: Conditional Parts - 10 Years (Registration Required)
Manufacturer's Stated Benefits:
New composite base pan - dampens sound, captures louver panels, eliminates corrosion and reduces number of fasteners needed
Improved tubing design - reduces vibration and stress, making unit quieter and reducing opportunity for leaks
Optimized defrost characteristics - decrease defrosting and provide better home comfort
Powder coat paint system - for a long lasting professional finish
Optimized reversing valve sizing - improves shifting performance for quieter unit operation and increased life of the system
Enhanced mufflers - help to dissipate vibration energy for quieter unit operation
Modern cabinet aesthetics - increased curb appeal with visually appealing design
Curved louver panels - provide ultimate coil protection, enhance cabinet strength, and increased cabinet rigidity
Optimized fan orifice - optimizes airflow and reduces unit sound
Rust resistant screws - confirmed through 1500-hour salt spray testing
External gauge port access - allows easy connection of
Single-row condenser coil - makes unit lighter and allows thorough coil cleaning to maintain
35% fewer cabinet fasteners and fastener-free base - allow for faster access to internal components and hassle-free panel remo
Service trays - hold fasteners or caps during service calls
QR code - provides technical information on demand for faster service calls
Fan motor harness with extra-long wires - allows unit top to be removed without disconnecting fan wire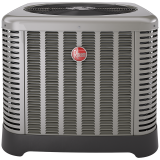 Classic Series: Single Stage
View Brochure
Model Family: RA13
Efficiency SEER: Up to 13-15.5 SEER
Efficiency SEER2:
Efficiency EER: Up to 11.5-13 EER
Efficiency EER2:
Energy Star Rated: No
Sound Level: Quiet operation
Refrigerant Type: R-410A
Compressor: Single Stage Scroll Compressor
Factory Warranty Parts: Conditional Parts - 10 Years (Registration Required)
Factory Warranty Compressor: Conditional Parts - 10 Years (Registration Required)
Manufacturer's Stated Benefits:
New composite base pan - dampens sound, captures louver panels, eliminates corrosion and reduces number of fasteners needed
Powder coat paint system - for a long lasting professional finish
Scroll compressor - uses 70% fewer moving parts for higher efficiency and increased reliability
Modern cabinet aesthetics - increased curb appeal with visually appealing design
Curved louver panels - provide ultimate coil protection, enhance cabinet strength, and increased cabinet rigidity
Optimized fan orifice - optimizes airflow and reduces unit sound
Rust resistant screws - confirmed through 1500-hour salt spray testing
Diagnostic service window with two-fastener opening - provides access to the high and low pressure
External gauge port access - allows easy connection of
Single-row condenser coil - makes unit lighter and allows thorough coil cleaning to maintain
35% fewer cabinet fasteners and fastener-free base - allow for faster access to internal components and hassle-free panel remo
Service trays - hold fasteners or caps during service calls
QR code - provides technical information on demand for faster service calls
Fan motor harness with extra long wires allows unit top to be removed without disconnecting fan wire